Business Development/Sales
·
Remote
·
Fully Remote
Sales Development Representative
The easiest sell is one you believe in. At Chatterbox, we don't just sell cutting-edge language learning software - we also create jobs for some of the world's most talented yet marginalised people.
A bit about us:

Chatterbox provides accredited language learning for business professionals, while uniquely making world-changing social impact. Our innovative solution uses proprietary technology enhanced by live, inspiring human coaching to drive faster success. We have mastered technology and human-loop blended learning for better motivation, stronger retention, and higher completion by learners. Because our live coaches build confidence and fluency through immersive workplace and cultural practice exercises, we achieve practical fluency to facilitate professional development and career growth.  

This is a rare opportunity to work in a high-growth, VC-backed startup with global social impact embedded at it's core - supporting an incredible yet marginalised community who inspire and motivate our team every day.
A bit about the opportunity:
Your role will be to supercharge the Sales Development efforts at Chatterbox. The Sales Development team is an integral part of our commercial function, generating new business opportunities for Chatterbox to partner with. The team is in a growth phase, so you will be joining a team of ambitious, driven individuals all looking to make an impact in the world!  You will work closely with the rest of the sales and marketing team to achieve quarterly targets and grow our mission.
The role will be varied and rewarding with your overall mission being to source and qualify Chatterbox's next happy customer. 
This role will give you an opportunity to:

Source new opportunities based on our Ideal Customer Profile (ICP). You will identify key stakeholders within each company and reach out to understand their needs for language learning solutions.

Generate traction with global companies through multi-channel outreach campaigns; including email, videos, social media and calls.

Work in a close knit, goal orientated team environment

Be a process wizard, ensuring that your accounts are up to date on the CRM (Hubspot) and that handover notes are aligned to our qualification criteria
Align your professional work with your personal goals for social impact.

Positively impact marginalised people and language learners around the world at incredible scale
A bit about you:

You have worked in a sales or fundraising environments, and are looking to transition over to work at a Tech for Good organisation.
You love building and maintaining relationships with key stakeholders across global organisations.
A strategic thinker and naturally process driven, willing to adapt to ensure we develop a pipeline of potential customers.
Ability to listen, diagnose and assess the L&D needs of companies so that we can provide the best solution for each prospect.
You'll have experience of a fast paced sales environment that has delivered exceptional results.
Superb writing, communication, and listening skills; you must understand objections and defeat them by turning sceptics into ecstatic new customers
You will be looking for work with an ambitious yet conscientious company that has a social mission.
Other than a competitive salary, we're proud to support our team members with:
TOP MENTORS
We're a VC-backed startup looking to produce systemic change by unlocking talent in marginalised communities. We're supported by some of the best early stage partners in the world, including startup studios All Turtles, Founders Factory, and GMG Ventures. They will become a part of your team too.
REMOTE WORK
The Chatterbox founders first started working together between the sandy beaches of Lisbon and the cityscapes of London. Today, we're a global and remote-first company with an office in both tech hubs. You can choose to work from either of our offices in Lisbon or London, or 100% remotely from anywhere in the world - whatever suits you best, as long as you're functional in GMT.
SOCIAL EVENTS
We've always worked remotely so know a thing or two about how to build thriving working relationships and a close-knit company culture remotely, currently across 5 countries. For those who like in-person events, we have quarterly team retreats, co-working and socials in London/Lisbon, and a 'Chatterbox House' in each city to host members of our team overnight if they would like to visit.
WORLD-CHANGING IMPACT
"The best minds of my generation are thinking about how to make people click ads. That sucks." Joining us, you will be working on a social problem that genuinely matters; the global opportunity gap that causes talented people from marginalised backgrounds to become long-term unemployed. As an early stage startup, your work with us will have an even bigger impact on the future of our company and movement.
PERKS & BENEFITS
Because you can't be superwoman or superman without the right cape and boots. We offer magical quarterly team retreats, an annual personal learning budget, and the opportunity to invest in your own success with EMI-qualifying share options in Chatterbox. Oh, and unlimited free language learning (naturally 😉).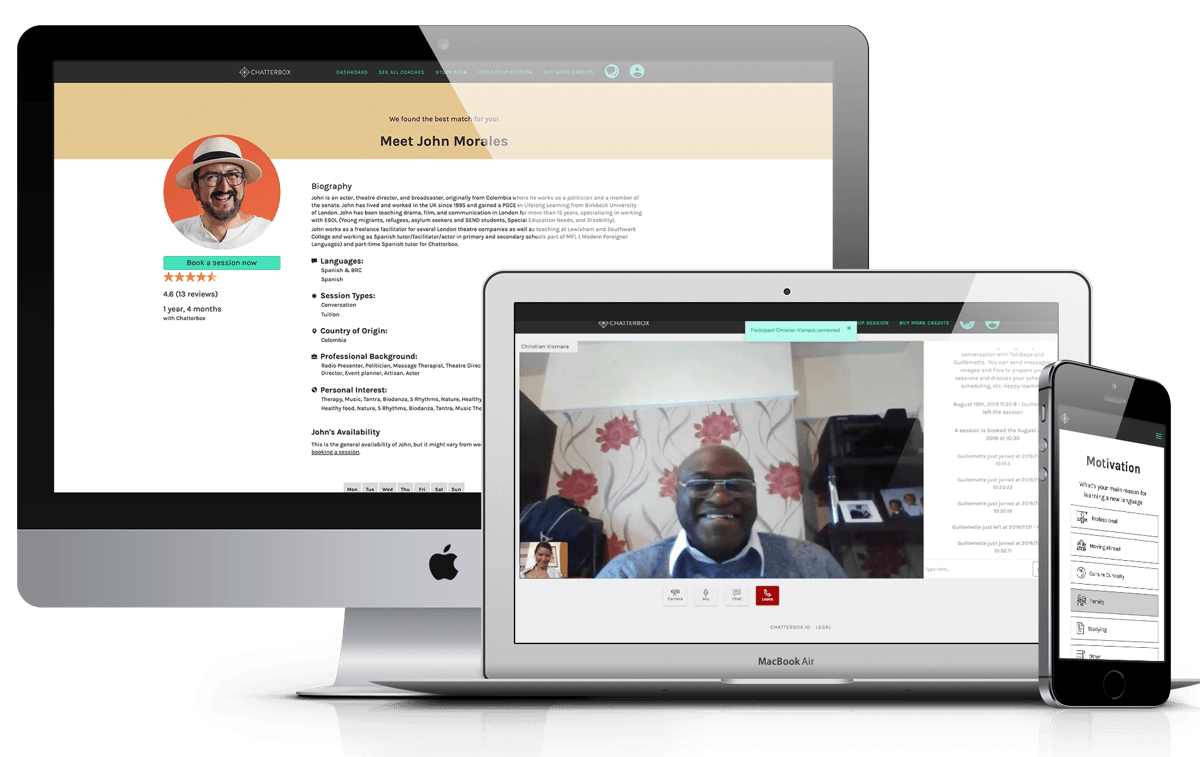 Some important stuff we would like you to know:

We believe in fostering a diverse and inclusive workplace. Therefore, we want to make sure that our recruitment process is accessible to everyone. So if you need any reasonable adjustments – at any point in the process – we'll do our best to help. Just let us know what you need on your application form or reply with your request to the email we send you after you have applied.
We're also usually hiring several roles at once - if you recommend someone who lands any of our paid roles we can offer you a reward of £250 to thank you for adding another valuable member to our family. You can also sign up to hear about future roles on this career site.
Department

Business Development/Sales

Locations

Remote

Remote status

Fully Remote
Related jobs
Our Workplace & Culture
The Chatterbox team and founders work remotely, mostly around the sandy beaches of Lisbon and the cityscapes of London. We're supported by some of the best investors in the world; like AI Startup Studio All Turtles and Founders Factory. They will become part of your team too.
About Chatterbox
Chatterbox's AI-powered platform matches refugees and marginalised people in need of work with opportunities in the digital economy. We've won recognition Forbes, the Financial Times, the BBC, and many more.
Already working at Chatterbox?
Let's recruit together and find your next colleague.