Business Development/Sales
·
Remote
·
Fully Remote
Senior Account Executive
The easiest sell is one you believe in. At Chatterbox, we don't just sell cutting-edge language learning software - we also create jobs for some of the world's most talented yet marginalised people.
A bit about us:

Chatterbox provides accredited language learning for business professionals, while uniquely making world-changing social impact. Our innovative solution uses proprietary technology enhanced by live, inspiring human coaching to drive faster success. We have mastered technology and human-loop blended learning for better motivation, stronger retention, and higher completion by learners. Because our live coaches build confidence and fluency through immersive workplace and cultural practice exercises, we achieve practical fluency to facilitate professional development and career growth.  

This is a rare opportunity to work in a high-growth, VC-backed startup with global social impact embedded at it's core - supporting an incredible yet marginalised community who inspire and motivate our team every day.
A bit about you:
You're an experienced language learning or tech platform salesperson who will be responsible for sales of the Chatterbox language learning solution to enterprise. You have a solid history of selling, with experience in a wide array of industries and verticals, ideally with strong relationships in the D&I, HR, and related employee development arenas. 
This position requires the development of viable prospects and client relationships needed to build a strong sales pipeline. As an Account Executive you will also be bringing back vital marketplace feedback to help better position Chatterbox with key buyers of language learning services. You will work internally with departments and key stakeholders to improve closing rates.
Essential skills & experiences include:
Minimum of 3 years of sales experience, preferably in language learning
Proven track record of reaching assigned sales goals
Proactive, energetic attitude and desire to work in a results-oriented and deadline-driven environment
Desire and ability to foster and manage many relationships simultaneously, while conducting on-going prospecting
Team player who works well with support teams, colleagues, and other company departments
Possesses a strong knowledge and understanding of the language learning industry, including the latest news happenings 
Strong understanding of the Chatterbox competitive set differentiators
Ability to understand and explain technical concepts and features
Strong verbal and written communication skills
History of developing and maintaining strong client relationships
Strong understanding of the sales process and ability to track and manage all stages, collaborating with other internal teams as needed
Revenue mindset with the passion and drive to exceed team goals
Presentation skills that deliver results
Awareness of and appreciation for cross-cultural understanding and social responsibility
Willing to travel as needed to build relationships and close deals
English (Required); Additional Languages (Preferred)
This hands-on role will develop you to:
Build strong relationships with customers and prospects throughout the sales process; maintain deep relationships with Chatterbox clients, managing in both active and quiet times
Develop, maintain, and track progress of pipeline by industries, languages, and regions
Achieve aggressive revenue growth goals with existing and new clients through a full sales process including prospecting, proposals, negotiation, closing, program success, and marketplace feedback
Work with internal teams to conduct research to identify new potential customers and markets 
Anticipate marketplace and client needs and identify opportunities both to grow existing accounts and add new customers 
Effectively communicate our key value propositions and overall narrative in the marketplace 
Use industry contacts and knowledge to identify warm leads based on qualified prospects 
Achieve personal and team quarterly sales goals; sell license programs that align with prospects' needs
Foster development of product enhancements, needed marketing tools and materials, and pricing structures by partnering with department stakeholders and management team
Use reporting and research results as a tool for upselling
Maintain deep relationships with Chatterbox clients, managing in both active and quiet times
Other than a competitive salary, we're proud to support our team members with:
TOP MENTORS
We're a VC-backed startup looking to produce systemic change by unlocking talent in marginalised communities. We're supported by some of the best early stage partners in the world, including startup studios All Turtles, Founders Factory, and GMG Ventures. They will become a part of your team too.
REMOTE WORK
The Chatterbox founders first started working together between the sandy beaches of Lisbon and the cityscapes of London. Today, we're a global and remote-first company with an office in both tech hubs. You can choose to work from either of our offices in Lisbon or London, or 100% remotely from anywhere in the world - whatever suits you best, as long as you're functional in GMT.
SOCIAL EVENTS
We've always worked remotely so know a thing or two about how to build thriving working relationships and a close-knit company culture remotely, currently across 5 countries. For those who like in-person events, we have quarterly team retreats, co-working and socials in London/Lisbon, and a 'Chatterbox House' in each city to host members of our team overnight if they would like to visit.
WORLD-CHANGING IMPACT
"The best minds of my generation are thinking about how to make people click ads. That sucks." Joining us, you will be working on a social problem that genuinely matters; the global opportunity gap that causes talented people from marginalised backgrounds to become long-term unemployed. As an early stage startup, your work with us will have an even bigger impact on the future of our company and movement.
PERKS & BENEFITS
Because you can't be superwoman or superman without the right cape and boots. We offer magical quarterly team retreats, an annual personal learning budget, and the opportunity to invest in your own success with EMI-qualifying share options in Chatterbox. Oh, and unlimited free language learning (naturally 😉).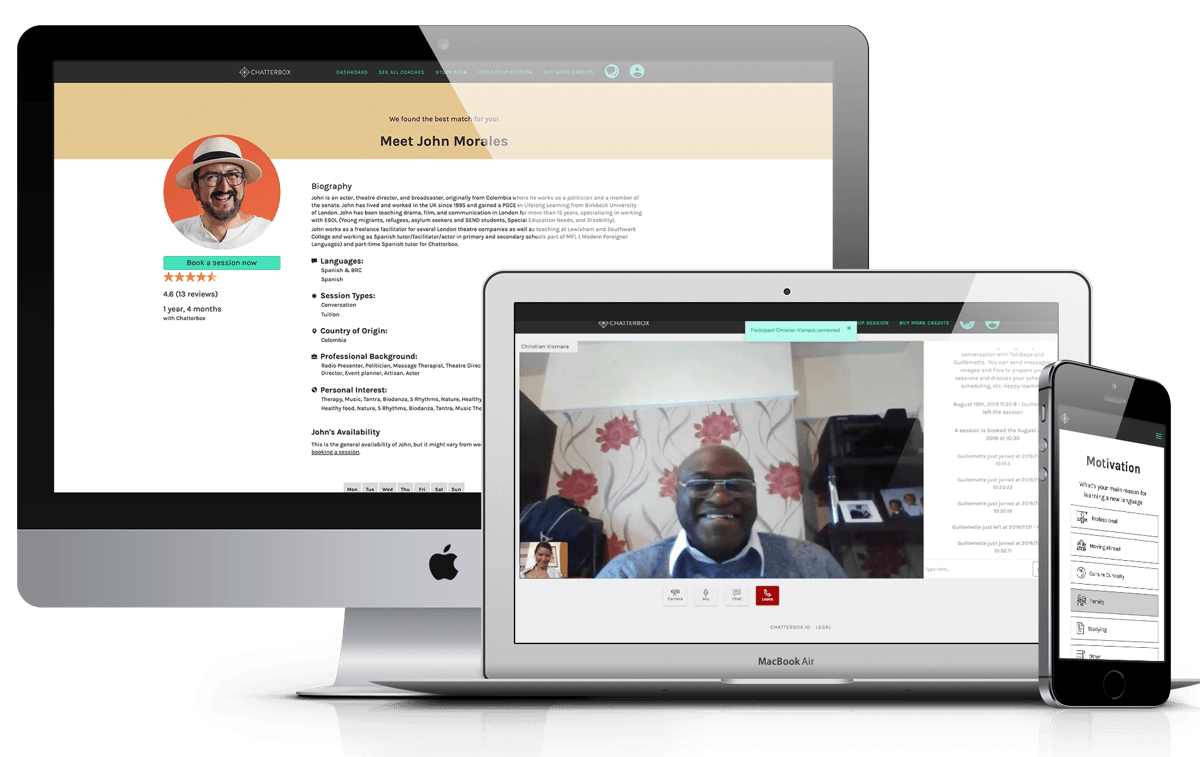 Some important stuff we would like you to know:
We believe in fostering a diverse and inclusive workplace. Therefore, we want to make sure that our recruitment process is accessible to everyone. So if you need any reasonable adjustments – at any point in the process – we'll do our best to help. Just let us know what you need on your application form or reply with your request to the email we send you after you have applied.
We're also usually hiring several roles at once - if you recommend someone who lands any of our paid roles we can offer you a reward of £250 to thank you for adding another valuable member to our family. You can also sign up to hear about future roles on this career site.
Department

Business Development/Sales

Locations

Remote

Remote status

Fully Remote
Related jobs
Our Workplace & Culture
The Chatterbox team and founders work remotely, mostly around the sandy beaches of Lisbon and the cityscapes of London. We're supported by some of the best investors in the world; like AI Startup Studio All Turtles and Founders Factory. They will become part of your team too.
About Chatterbox
Chatterbox's AI-powered platform matches refugees and marginalised people in need of work with opportunities in the digital economy. We've won recognition Forbes, the Financial Times, the BBC, and many more.
Already working at Chatterbox?
Let's recruit together and find your next colleague.